Wow, finals hit me hard this quarter. At least I only have to go through that once more (unless I go to grad school.. Let's not think about that right now). I have been crafting, though, especially in the past few days.
As mentioned before, a friend asked me to help her design some
crazy little dinosaurs
. She actually came up to my apartment a few weeks ago and we set out figuring out the pattern and seeing what we could do. The first few, I'm sorry to say, turned out
horribly
, but by the end of the journey, she created a few really adorable little guys. My favorite is the "emo dinosaur", complete with black eyeliner and floppy hair.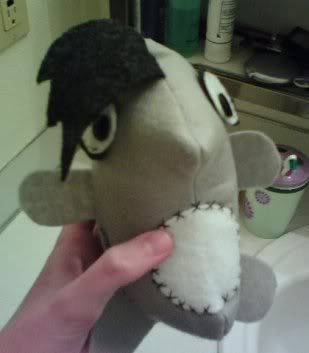 This week, I made another Warcraft plushie, based off of a
ghoul
, as requested by a close friend. I'll put pictures of the fellow up here once she receives her package, since I don't want to spoil the surprise, but I was
very
pleased. He's quite possibly the cutest zombie ever. I'm planning on making another for myself.
Today, I started working on the twin
zodiac pillow
my friend requested for her birthday, to match her roommate's. It's looking pretty nice so far, since I have the experience of the first pillow under my belt and I know how to avoid some of the pitfalls that occurred before.
If I have time, I'm going to try to make that dino quilt on Monday. It doesn't seem very hard, as I was reading the directions earlier, although I don't have a "pressing cloth," as is requested. I figure I can just iron the seams like normal. I hope?